WHY YOU SHOULD REGULARLY REVIEW YOUR FINANCIAL PLANS
Why your should regularly review your financial plans
It goes without saying that your financial plans should not be static objects, and that you should review your plans over time, and on a regular basis to ensure that you remain on track towards your goals.  You also need to adapt your financial plans as your circumstances change.
When should you review your financial plan?
This depends on your own circumstances but should be at least annually, and probably also when something major happens to your personal or financial situation.
Think of your own personal circumstances over the last 5 to 10 years. It is likely that they have significantly changed during that time. Your income will be different, as will be your expenses. You will probably have developed different interests and your family situation could have changed. Perhaps more fundamental changes could have occurred such as a changing attitude towards risk, as you understand more about investing and financial planning.  Or perhaps you have become risk averse as your retirement gets closer.
The point is that as your personal circumstances change, so should your financial plan.
What to consider in your review?
Guess what?  You will need to go through the whole process of creating your financial plan all over again! Think about how these areas have changed in your life:
Goals
Your goals may have altered, or you may have new goals as you achieved previous ones.
Assumptions
You may have found that your previous assumptions were not realistic, or were too pessimistic. This is vital to get as correct as you can because assumptions which are wrong either way can have a dramatic bearing on the results of your plan. Nearly all your assumptions will be wrong since it is so hard to predict the future, and few of them can be static.
Income
This will change (hopefully increasing) as you become more valuable in your job, and your assets grow.
Expenditure
No doubt, this will change as your personal situation alters.
Assets
You will need to update your schedule of assets as values fluctuate and you acquire new ones.  You do have a schedule of assets, don't you?
Liabilities
Hopefully, you will make progress in reducing your liabilities, but you need to keep on top of the changes, especially given that this can be quite motivating.
Cashflow planning
Filter the above changes into your plan to see how things alter and impact on your ability to meet your goals.
Emergency planning
You may have had enough put aside to cope with an emergency at your last review, but this should be checked to ensure that it reflects your current situation.
Financial protection
Reassess your requirements based on your attitudes, assets and family commitments.
Paying off debt
Your plan, if appropriate, should be paying off by now.  Work hard at this, and if appropriate, divert more resources to this area of your life.
Saving for the future
Reassess your plan for growth of your assets, including how you feel about risks. Re-balance your assets as some will have grown in value quicker than others.  Investigate and track the performance of your assets to determine whether they are meeting your expectations.
Want some help preparing a comprehensive financial plan?
We work with our clients to tell them the truth about their money:
How much is enough
to live the life you really want and never run out of money?
We build a plan to help you achieve your goals.

What level of risk
do you need to take to achieve the lifestyle you want?
We help you manage risk and aim to maximize investment returns.

How do you achieve your goals
now you understand where you're going?
We recommend only those products that help you achieve your goals.
Get your free mini guide on
How to Prosper From Your Savings
This FREE Mini Guide is perfect for you if you have significant savings in bank accounts and want this money to work harder for you, but are cautious about taking too much risk with your money.
Want your free mini guide?
Fill out the form below
We'll also send additional relevant updates on financial planning and investment management. You can unsubscribe at any time.
Got a Question? Call 01206 919101
Find out how we can help you to Prosper from your savings.
Do you require a simple system to achieve clarity in your finances?
 Focus on the 7 most important figures necessary to create your own basic financial plan.
Discover a straightforward way to eliminate the clutter in your financial life to gain clarity on what is actually important with your money.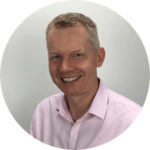 About Dan Woodruff
Certified Financial Planner & Chartered Wealth Manager at Woodruff Financial Planning
Financial Planning helps you to navigate and anticipate significant life changes. I want to help you to ensure your money is managed wisely to give you the financial security that will fund the future and lifestyle that is important to you.